Are cakes healthy? When you think of cake, chances are you feel about something loaded with sugar, fat, and calories. But it doesn't have to be this way! 
Plenty of healthy cake recipes are just as delicious as the unhealthy ones – you just have to know where to look.
 In this article, I've rounded up two of my favorite healthy cake recipes: The first recipe is for a fruit and nut cake. This cake contains healthy ingredients, such as whole wheat flour, nuts, and dried fruits. It is also low in sugar and calories.
The second recipe is for blueberry muffins. These muffins are made with whole wheat flour and are loaded with fresh blueberries. They are perfect for a quick and healthy snack. So what are you waiting for? Get baking!
Simple Healthy Cake Recipes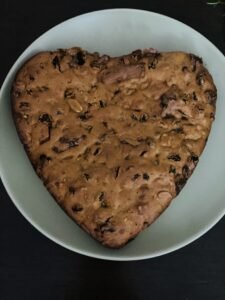 Healthy Fruit and Nut Cake
Fruits and nuts are good sources of fiber, which can help with bowel regularity and digestion. They also contain vitamins, minerals, and antioxidants that can boost your immune system and help protect your body against disease. Eating fruits and nuts has also been linked with a lower risk of heart disease, stroke, and cancer.
The original recipe is from leitesculinaria, but I slightly modified it to make it more nutritious.
Baking time 1 hour
Ingredients
¾ cups Whole wheat flour

¼ tsp baking soda

¼ tsp baking powder

½ tsp salt

¾ cup firmly packed raw sugar, light or dark brown sugar

1 cup of dried plums, apricots, pluots, pears, peaches, or a fruit mixture. Cut larger fruits into small bits.

1 cup moist dates or other favorite dried fruits

2 cups walnut halves

3 large eggs

1 teaspoon vanilla extract

Directions
Preheat the oven to 300 degrees Fahrenheit or 150 degrees Celsius. Spray the cake pans with vegetable oil on the sides and bottom of the inside, or line them with parchment paper.

 In a large bowl, combine the flour with baking powder, baking soda, and salt. Add the dried fruits and brown sugar and mix thoroughly with your fingers or a wooden spoon.

Set aside

In another bowl, beat the eggs with the vanilla until light. Pour the egg mixture over the dry ingredients, mix with the wooden spoon until all the fruits and nuts are coated with batter, and thoroughly scrape the batter into the pan.

Bake until the top is deep golden brown for about one hour. Cover loosely with foil if the cake starts to brown too much.

 When done, remove the cake from the oven and let it cool on a wire rack. When cooled, cut into thin slices with a sharp, heavy knife. 
Blueberry muffins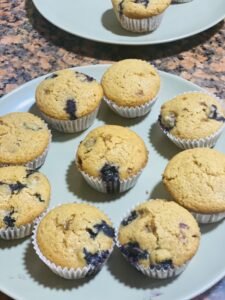 Original recipe from Inspired Taste, but I made a few modifications to make the muffins super healthy. 
Blueberries are not only delicious but they are also packed with nutrients and antioxidants. This superfood can help improve memory, lower heart disease risk, and even reduce inflammation.
The high levels of antioxidants in blueberries can help neutralize free radicals––damaging molecules that can lead to inflammation. Inflammation is a significant factor in many chronic diseases, such as heart disease, arthritis, and cancer.
Blueberries can also help improve your memory and cognitive function due to the presence of flavonoids known to protect the brain from damage.
In addition, blueberries are a good source of dietary fiber. Fiber is essential for keeping your digestive system healthy and can help lower cholesterol levels.
Baking time: 15 to 20 minutes
Ingredients
1 ½ cups (150 grams) of whole-wheat flour

3/ 4 cup (150 grams) of raw sugar or brown sugar

One by 4 tsp fine sea salt 

2 tsp baking powder

 ⅓ cup (80ml) neutral flavored oil it may be either vegetable or grape seed oil

One large egg

 ½ cup (120 ml) milk dairy and nondairy both would work

1 1/2 tsp Vanilla extract 

6 to 8 ounces of fresh frozen blueberries, about 1 cup
Directions
 Heat oven to 400 degrees Fahrenheit. Line the muffin cups with paper liners. 

 Whisk the flour, baking powder, sugar, and salt in a large bowl. Add oil, egg, milk, and vanilla, and whisk to combine.

Add the milk mixture to the bowl with dry ingredients, then use a fork to combine. Refrain from over-mixing.

 Fold in the blueberries.

 Divide the muffin batter between the muffin cups. Sprinkle little sugar crystals on top of each muffin. This step is optional, but sprinkling sugar gives a crunchy flavor to the soft, moist, and tasty blueberry muffin.

 Bake the muffins for 15 to 20 minutes or until a toothpick inserted into the middle of the muffin comes out with crumbs, not with batter, and transfer to a cooling rack.

 Keep the muffins in a plastic bag and seal them—store them at room temperature for 2 to 3 days. To freeze, wrap them tightly in aluminum or place them in a freezer bag for 2-3 months. 

You can make these muffins with fresh frozen blueberries, but if you use frozen, the batter should be thick and scoopable, not running.
Try these simple healthy cake recipes and make memories with your dear ones.
​​