Collagen is essential for having youthful and radiant skin. This critical protein provides structure and support to the skin, helping to keep it firm and plump. Sadly, aging decreases collagen production, so it becomes necessary to substitute collagen to enjoy youthful-looking skin.
Luckily, there are several excellent collagen-boosting serums available on the market today. This blog post will introduce you to seven of the best collagen booster serums for young and beautiful skin. These serums are packed with powerful ingredients that can help to stimulate collagen production and give you noticeable results.
What is collagen?
Collagen is a protein in the skin, tendons, ligaments, and bones. It is in charge of giving the skin strength and elasticity. Our bodies produce less collagen as we age, resulting in sagging skin, wrinkles, and fine lines.
Numerous ways to increase collagen production include eating a healthy diet, getting enough sleep, and using topical collagen products. Collagen-based creams and serums can help smooth wrinkles and give your skin a more youthful appearance. So remember to add collagen to your beauty routine to keep your skin looking its best.
When does collagen production slow down
Collagen accounts for roughly one-third of all protein content. Reduction in collagen production starts around 25 years and continues throughout life. We may have lost as much as 30% of our collagen before reaching middle age. This loss of collagen can lead to wrinkles, fine lines, and other age-related problems.
 The benefits of using a collagen booster serum
When it comes to boosting collagen production, one of the most popular and effective methods is to use a collagen booster serum. These serums contain potent ingredients that can help to stimulate collagen production and give your skin a more youthful appearance.
There are many different collagen booster serums on the market, so it can take time to decide which one to choose. But when selecting a collagen booster serum, there are a few key things to look for:
Ensure the serum contains ingredients like bakuchiol, hyaluronic acid, and vitamin C, all known to stimulate collagen production.

Look for a serum that has been clinically tested and proven effective.
When used correctly, collagen booster serums can be a powerful tool in the fight against wrinkles and other signs of aging. Just remember to use them as directed and follow the product packaging directions. With regular use, collagen booster serums can help you achieve the youthful, radiant skin you've always wanted.
 How to use a collagen booster serum for best results
Consider using a collagen booster serum to enhance your appearance and boost your confidence. When used correctly, these serums can help diminish the appearance of wrinkles and fine lines while also improving the elasticity and radiance of your skin. Here are a few tips to help ensure you get the best results from your collagen booster serum:
1. Choose the suitable serum for your needs. Not all collagen serums are created equal. Be sure to select one well-suited for your particular skin type and concerns.
2. Use it as directed. Be sure to follow the manufacturer's instructions for the best results.
3. Be consistent. It is essential to use your collagen booster serum regularly to see the desired results.
4. Pair it with other anti-aging treatments. For even more youthful-looking skin, consider using your collagen booster serum in conjunction with other anti-aging treatments, such as retinol or microdermabrasion.
5. Don't forget the sunscreen
How often to use a collagen mask
A collagen mask is a facial treatment designed to improve your skin's appearance. A collagen mask can help replenish your skin's collagen, giving you a more youthful appearance.
While there are no definitive rules on how often to use a collagen mask, most experts recommend using one at least once a week. This will help ensure that your skin gets the maximum benefit from the mask. Use a mask more often if you have dehydrated skin. And if you have oily skin, use a mask less often.
Note: As an Amazon affiliate, I earn commission from qualifying purchases.
7 Effective collagen booster serums for youthful skin
#1. Glo24k collagen booster serum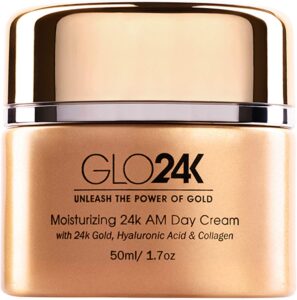 Glo24k is the new gold standard of skin care because it unleashes the power of gold and gives you star-level, high-quality, and affordable luxury with effective results. You can now join the hottest trend in the beauty industry and unleash the power of gold.
This serum contains anti-aging collagen that keeps your skin hydrated, supple, revitalized, and radiant. Enriched with 24K gold, hyaluronic acid, and collagen, this moisturizer gets absorbed quickly and effectively deep into the skin. This product is not tested on animals cruelty-free, paraben free and made in the USA, and does not contain harmful fragrances. 
#2. Collagen booster Olehenriksen
A daily multivitamin Olehenriksen collagen booster, brightens and firms skin, fights visible signs of aging, and delivers all-day hydration. Enriched with green tea and orange extracts, it has an energizing citrus aroma and silky texture that glides beautifully on the skin and makes it healthier and youthful. Its oil-free composition absorbs quickly. Susanna, a verified customer, said she tried many different serums, but this one was the best. 
#3. Collagen-boosting peptide serum
This all-natural, vegan, Amazon's choice peptide face serum contains advanced collagen-boosting plant peptides and amino acids. This anti-aging formula reduces fine lines and wrinkles, stimulates the skin's natural collagen, brightens dark spots, and improves skin texture, elasticity, and overall tone to give you a more youthful glow.
The plant-based collagen peptides, Gotu kola, Hyaluronic acid, jojoba oil, and aloe vera deeply penetrate the skin, helping it to heal and moisturize. Gentle application around your eyes results in smooth, supple skin and a reduction of crow's feet. This serum is even perfect with microneedling. It is produced from sustainable sources and works on all skin types, including sensitive skin. 
A happy customer says she likes this product because it quickly dries after applying it to her skin and adds the price range, and the results led her to be a repeat buyer. Having tried a dozen peptide-based products, this one is the most elegant in the application and works great, she says.
Another verified buyer says she's been using this product for more than a week, and her experience has been great. The serum feels good on her skin and absorbs quickly, leaving her skin smooth and clean. 
#4. Indeed labs collagen boosting serum.
Indeed hyaluronic acid serum provides extraordinary moisture-boosting benefits to the skin. It is filled with powerful anti-aging properties and replenishes skin moisture while diminishing dullness.
Its low molecular weight allows the serum to penetrate deep into the skin surface, enhancing hydration and a dewy glow. Gentle enough for all skin types, this serum contains the purest form of hyaluronic acid that holds 1000 times its weight in water. Also, it has red marine algae, a nutrient-rich mineral that stimulates circulation and boosts hyaluronic acid's ability to penetrate the skin's deepest layer.
 This vegan product contains no phthalates, sulfates, parabens, or mineral oil. It is fragrance-free, dye-free, and alcohol-free. Apply a pea-sized amount to your freshly cleaned face every morning and night for a dewy glow 
#5. Novaherbs collagen-boosting serum
It is an anti-aging collagen serum with retinol that helps decrease wrinkles, fine lines, and puffiness. The collagen serum tightens and firms skin and is great for sagging skin on your face, neck, hands, and decollete.
 This product is suitable for all skin types and is excellent for dry skin. You can use it both as a day and night cream. This best anti-aging serum provides flawless skin by working deep into your skin and helps to eliminate stretch marks, loose skin, cellulite spider veins, scarred skin, and more. This product is paraben free, manufactured in India, not tested on animals, and has a 100 % satisfaction guarantee. 
Pranjal, a verified customer, says that this is such a great product, and from the time she started using it, her skin started glowing, and most of all, her skin felt moisturized.
#6. Vegan Collagen boosting serum
As more and more people become vegan, the number of products on the market that cater to this lifestyle is increasing. One type of product that has seen a surge in popularity in recent years is vegan collagen booster serum.
Vegan collagen booster serum is designed to help improve the skin's appearance and give it a more youthful look. The serum contains ingredients that help to stimulate the production of collagen, which is a protein that is responsible for the skin's elasticity and firmness.
MJ, a top 100 reviewer on Amazon, says that applying two to three pumps to clean dry skin areas in the morning and evening gives maximum benefits. MJ says the serum has nice extracts, works well, and is alcohol-free and essential oil free. 
Another happy customer writes this is a lovely little serum, almost watery with no discernible scent. It absorbs quickly, leaving no trace, and she feels comfortable using it day and night. She adds Bosica vegan collagen is great because it is cruelty-free, 100% vegan, preservative-free, artificial fragrance and color free, and gluten-free. 
#7. Etude House Moistfull Collagen Cream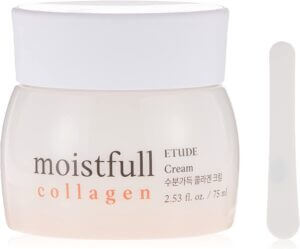 It's a collagen booster that helps to increase collagen production and keep skin hydrated. The super collagen small-sized water particles in this long-lasting moisture cream help the skin become bouncy and dewy. Apply a small amount on the face and press gently into the face for better absorption. A happy customer Nausheen says this cream has improved her skin quality. And Dalia, another verified buyer, says Moistfull collagen has a light and pleasant smell.