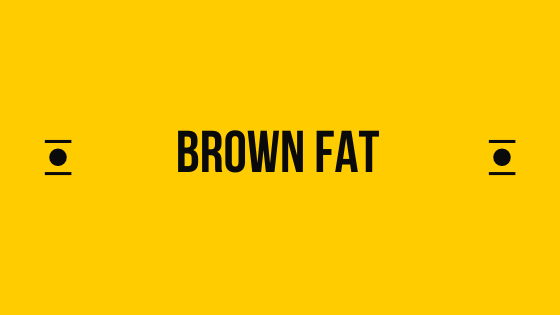 It's quite exciting to note different kinds of body fat-white, yellow, brown, beige, and belly fat. Ok, belly fat is not color, but excess belly fat can be a severe health concern. 
Well, there is one kind of fat that burns calories, fights obesity, and even reduces the risk of diabetes. Guess who?
 It's the brown fat that's usually found more in people with lower body mass index. This specialized fat is located in weird parts of your body and is probably hard to find, and the funny part is even mild stress activates brown fat.
So what is brown fat
It's a special type of fat that gets activated when you feel cold. It warms up your body by producing heat and helps maintain your body temperature in cold climates. 
Brown fat cells contain more mitochondria than white fat. These mitochondria burn calories to produce heat. Brown fat is also known as brown adipose tissue. 
White fat vs. brown fat
White fat- the one you primarily have known your whole life stores energy in large fat droplets and accumulates it around your body. The fat accumulation provides insulation for your organs and keeps your body warm as well.
But too much white fat in humans leads to obesity. Likewise, plenty of white fat around the midsection can lead to diabetes, heart problems, and other diseases. 
Alternatively, brown fat stores energy in a smaller space than white fat-Packed with iron-rich mitochondria, brown fat burns to produce heat without shivering. This process is termed thermogenesis. During thermogenesis, it also burns calories. 
Previously scientists believed only babies had brown adipose tissue that helped them to regulate body temperature. Also, they thought it disappeared once people became adults. 
But now science reveals that even adults have reserves of brown, fat-especially in small deposits around the neck, collarbone, kidneys, and spinal cord.
Brown fat is good
A research study found that brown adipose tissue can help your body filter and remove (BCAAs) branched-chain aminoacids-leucine, isoleucine, and valine. You see these BCAAs in foods like milk, meat, eggs, chicken, and eggs, as well as in supplements that help build muscle mass. 
In average concentrations, these BCAAs promote good health, but in excess amounts, they are linked to obesity and diabetes.
Researchers found that people with little brown adipose tissue have problems clearing these BCAAs from their systems that may cause diabetes or obesity.
How to increase brown adipose tissue
As brown adipose tissue has so many benefits, it's natural that you want to know how to increase it. Here's a lowdown of some easy ways to increase brown fat. 
Avoid starving or stuffing yourself.
Our hunger regulating hormones in the brain notify us when we had enough. It seems that these neurons have another duty as well. Researchers from the Yale school of medicine found that the neurons encourage fat to turn brown. 
The study points out that eating few calories prevents fat from becoming brown. While a sufficient amount of food to satisfy hunger prompts neurons' action to convert white fat to brown. 
Other research studies also show that overconsumption increases white fat and even interferes with the brown adipose tissue's ability to burn calories. Researchers also found a hearty carbohydrate-rich meal activated brown adipose tissue and was as effective as the cold stimuli.
Eat an apple
Whether or not an apple keeps the doctor away, it keeps the fat away. University of Iowa researchers found that the ursolic acid present in apple peels and also gives apples their sheen boosted brown adipose tissue in mice, even when they were fed a high-fat diet. 
Exercise
Moving your body may seem a no brainer when it comes to burning fat. A research study published in the journal Disease Models and Mechanisms found that exercise triggers an enzyme called irisin that induces white fat cells to turn to brown fat cells. So what's so special about this enzyme?
Researchers from Harvard and other Universities talk about irisin in a study published in Nature. According to their research, this previously unknown enzyme is produced in working muscles in mice. 
From there, it enters the bloodstream and migrates to other tissues, especially to fat- from where it starts a series of biochemical processes that cause some of the white fat cells to turn brown.
Turn down the thermometer.
Scientists have found that short term exposure with cold exposure activates brown fat energy metabolism and may burn up to 15 percent more calories.
Brown adipose tissue burns calories through fatty acid oxidation. Scientific literature says that moderate cold exposure is the biggest activator of brown adipose tissue. Researchers found that people with active brown adipose tissue burnt 20 more kilocalories than those without it. 
Also, they found that individuals with active brown fat burned significant fat with intense cold exposure and had a healthier fatty acid blood profile. 
Another research found in the Journal of Clinical Investigation dealt with 12 young men with low than average amounts of active brown adipose tissue. They were made to sit in 63 degrees Fahrenheit room for two hours a day for six weeks. The researchers found that the participants burnt an extra 108 calories in cold temperatures than average indoor temperatures. 
After six weeks, their bodies were burning a whopping extra 289 calories in the cold. This action prompted the researchers to hypothesize exposure to lower temperatures increased the activity of a gene that converts white fat into brown. 
Increase your body's melatonin production
Research says that melatonin increases the presence of beige fat, similar to that of brown adipose tissue in its fat-burning actions. While you might want to take supplement health experts, advise you to go the natural route.
Limiting nighttime exposure to light from TVs, computers, and other light exposure, getting adequate sunlight. Exposure during the day, including melatonin-rich foods in your diet, including tomatoes, almonds, tart cherries, coriander, and cardamom.
Drink a cup of coffee
A research study says that drinking coffee may stimulate brown adipose tissue and help you burn calories. Increasing its activity improves blood lipid levels and blood sugar control. It prevents obesity and diabetes, as well.
Also, the extra calories burnt help with weight loss. This research is a unique study as it's the first of its kind -with something as simple as a coffee can directly affect brown fat functions. Using the thermal imaging technique, scientists found that brown adipose tissue in the neck region got hotter after the research participant had a drink of coffee.
In conclusion
Never let your brown adipose tissue sit idle; keep it active most of the time to stay healthy and fit.