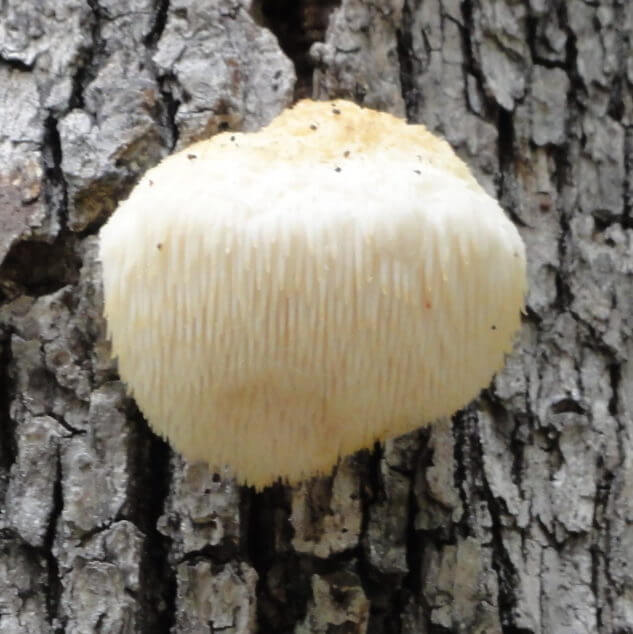 Lion's mane mushroom looks like a little dwarf with a long beard searching for treasure deep inside the woods. Lion's mane mushroom is an edible medicinal mushroom that's native to Europe, North America, and Asia. It has a striking appearance with a single clump of dangling spines. These popular edibles are common during late summer and fall and pop out on the hardwoods.
Health benefits
Also known as yambushitake, these shaggy large white mushrooms are used for culinary as well as medical purposes in India, China, Japan, and Korea. Lion's mane mushrooms are versatile; you can enjoy them as such, cooked, dried, or seeped as a tea.
May protect against dementia
Compounds such as hericenones and erinacines that are present in Lion's mane mushrooms stimulate the growth of brain cells. Moreover, in animal experiments, these mushrooms have found to reduce the progress of Alzheimer's disease. The extract of these mushrooms has shown to reduce memory loss and prevent neuronal damage in mice. However, more research is needed as no human trials have yet been done.
Helps treat milder forms of depression and anxiety
Many people believe chronic inflammation to be the contributing factor for anxiety and depression. Research studies show that lion's mane extract has anti-inflammatory properties that reduce anxiety and depression in mice.
Researchers have found that lion's mane extract boosts the functioning of the hippocampus as well as regenerate the brain cells. Hippocampus is the main center for processing memories and emotional responses. Improved brain function results in less anxious and depressive behaviors.
Reduces heart disease risk
Some of the risk factors of heart disease include high triglyceride levels, obesity, increased tendency to get blood clots, and large amounts of oxidized cholesterol. Research studies have shown that lion's mane mushroom extract lowers triglyceride levels and improves fat metabolism.
Another study found rats fed on a high-fat diet along with lion's mane mushroom extract had 27 percent lower triglyceride levels and 42 percent less weight gain.
Scientists believe that the lion's mane mushroom extract prevents the oxidation of cholesterol in the blood. Reducing oxidation is helpful because oxidized cholesterol molecules attach themselves to the walls of the arteries and harden them increasing the risk of heart attack and stroke.
Furthermore, hericenone B, present in this mushroom, decreases the rate of blood clotting, thus reducing heart attack and stroke.
May help to fight cancer
Lion's mane mushroom fights cancer by killing the cancer cells and slowing down their progression. Test tube studies say that when the lion's mane extract mixes with human cancer cells, it kills these cells at a faster rate. Not to mention, it destroys several types of cancer cells, like colon, liver, stomach, and blood cancer cells. Besides it, slows down the spread of cancer.
Helps manage symptoms of diabetes
Lion's mane mushroom extract helps in diabetes management by improving blood sugar control. Animal studies point out that this mushroom extract, even in smaller doses, significantly reduces blood sugar levels in both diabetic and normal mice.
This mushroom lowers blood sugar level by blocking the activity of alpha-glucosidase, an enzyme that breaks down carbohydrates in the small intestine. When this enzyme is blocked, the absorption of carbohydrates suffers, which results in low blood sugar levels.
Furthermore, the lion's mane extract reduces diabetic nerve pain in both hands and feet. Supplementing this extract for six weeks in diabetic mice resulted in lowering of pain, reduced blood sugar levels, and increased amounts of antioxidants. Though the lion's mane shows potential as a diabetic supplement: in humans, more studies are required.
Boosts immune system
A strong immune system protects you against various infectious diseases. Studies on animals show that the lion's mane mushroom boosts immunity by increasing the efficiency of your intestinal immune system. The intestinal immune system protects your body against pathogens entering through nose and mouth. The lion's mane mushroom brings about positive changes in your gut bacteria that stimulate your immune system.
An animal study found that lion's mane mushroom supplementation quadrupled the lifespan of mice injected with a lethal dose of salmonella. Though all these sound promising, more research is needed in this area.
Where to find it
Supplements containing lion's mane mushroom are available at natural health food stores that specialize in dietary supplements. Likewise, you can also purchase it online.
Side effects
It's always important to consult your doctor before taking any supplements. Though no human trials have yet been made, its generally considered safe to take lion's mane mushroom supplements. In animal experiments even in high doses, these mushrooms did not produce any adverse effects.
However, if you are allergic or sensitive to mushrooms, avoid the lion's mane or its supplements. Likewise, if you have asthma, it is better to avoid it since this mushroom may aggravate asthma symptoms.
Recipe ideas
Lion's mane is one of the most beautiful and exciting looking mushrooms in the world. Enjoy this delicacy in its purest form. Lion's mane has a flavor of lobster or crab, and so it's not good to disguise it with complex flavors.
Wondering how to prepare it? Tear the head of the mushroom into small wedges. In a large heated skillet dry saute the mushrooms until its edges begin to brown. Wait till all the water boils away.
Coat the mushrooms with a pat of butter and a clove of finely chopped garlic. Cook the mushrooms until it turns golden brown. Sprinkle a pinch of sea salt and eat them hot along with small pieces of a cracker or crusty bread.
If you don't like fresh ones, consider adding dried mushrooms to tea and enjoy!