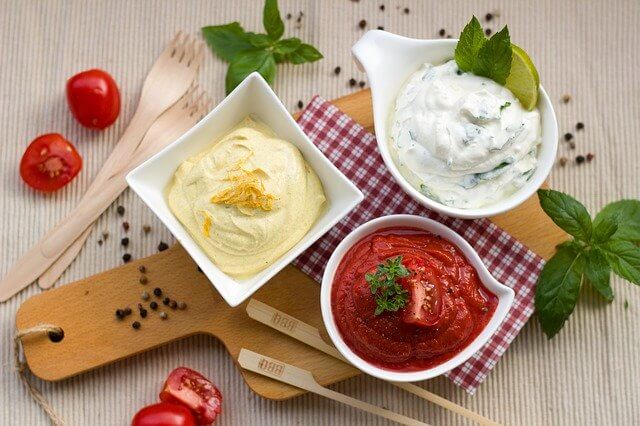 Dips are a great way to start a party. The variety of these dips makes it a crowd pleaser. Dips add flavor and texture to the food such as pita bread, crackers, seafood dumplings, potato chips and so much more.
These dips are tasty and versatile. Make your gatherings more joyous and lively with these easy to make dips.
Here are some great ideas to make your perfect dip.
Creamy peanut butter dip
Recipe source Popsugar
Ingredients
6 ounces nonfat vanilla Greek yogurt
1 tablespoon natural peanut butter
1/2 tablespoon maple syrup
1/8 teaspoon cinnamon
Method
Serve all the ingredients in a bowl and serve with pears, apples, bananas, strawberries or grapes.
Roasted tomato hummus
Recipe source Popsugar
Ingredients
4 garlic cloves
1 teaspoon salt
2 1-pound, 3-ounce cans chickpeas, drained and rinsed
2/3 cup tahini, well stirred
1/4 cup fresh lemon juice, or to taste
1/2 cup olive oil, or to taste
1/2 to 1 cup roasted tomato
Method
Add all the ingredients into the food processor and blend it until nice and smooth.
Spinach- Artichoke dip
Recipe source: Realsimple.com
Ingredients
1.       110-ounce box frozen cut or chopped spinach, thawed
2.      112-ounce jar artichoke hearts, drained and roughly chopped
3.      1/2cup whipped cream cheese
4.      3/4cup sour cream
5.      1cup grated Cheddar
6.      1/2teaspoon kosher salt
7.      1/4teaspoon black pepper
8.      pita chips, tortilla chips, or sliced French bread
9.      1lemon, cut into wedges (optional)
Method
Heat the oven to 400 degrees Fahrenheit
Remove excess moisture from spinach using paper towels
In a small bowl combine all the ingredients and season it with salt and pepper.
Transfer to a baking dish and bake for 15 minutes until slightly golden in color.
Serve with chips or bread or lemon wedges.
Black bean dip
 Recipe Source: Popsugar
 

Ingredients

2 cans black beans, drained and rinsed

1/4 cup reserved black bean liquid

1/4 medium red onion

1 Roma tomato

2 garlic cloves

2 tablespoons chopped fresh cilantro

1 tablespoon lime juice

1/2 tablespoon apple cider vinegar

1 teaspoon cumin

1/2 teaspoon sea salt

1/4 teaspoon cayenne pepper
Method
 Blend all the ingredients in a food processor and blend until smooth.
Add more sea salt to taste, garnish and serve.