FTC Disclosure- This post contains affiliate links and I will be compensated if you click on the links and make a purchase

&nbsp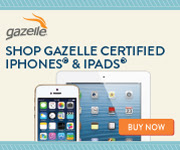 The new iPhone is coming! The new iPhone is coming! Although, no one is exactly sure when …

The release of the new iPhone model is a highly anticipated event among techies. To add to the excitement, Gazelle is running a "Guess The Date Sweepstakes." If you correctly guess when the new iPhone will be released and post it on Gazelle's Facebook page,
you'll be entered to win a brand new iPhone 6s courtesy of Gazelle!

But you better hurry! Gazelle's "Guess The Date Sweepstakes" won't last long, so consult your crystal ball and enter in your prediction today for a chance to win!

It was just another mundane day the husband was in the office and the kids were studying and yelling. But the weather was pleasant and there was a gentle breeze. So I kept my kitchen door open. Suddenly I heard a mesmerizing sound, like that of a xylophone or music from jalatharangam. It was to my amazement I found people from a nearby balcony had tied a wind chime that was making such beautiful sound. The music turned a mundane evening into a lively and an exciting one.
You may have become wound up in the same old routine. You need to re-energize your life to live it to the fullest. So, how do you go about? Oxford dictionary defines the word re-energize as fresh vitality, enthusiasm or imputes to. Just take stock of your life and cut off the things which weigh you down. Introduce practices and habits that enrich your life.
You may spice up your life by exercising, practicing yoga and trying to learn something new. Be it music, art; dance anything that makes you feel relaxed. Even a long hot shower, tea and power nap would do wonders for your otherwise stressed-out life. Good friendships help you to live longer. It may ward off depression, boost self esteem and provides emotional support. But be wary of friendships that drain your energy.
A natural detox diet goes a long way in re energizing your life. It helps you to reduce weight, makes you power packed and clears foggy thinking and gives you a clear and smart head. Before you go on a detox ask your doctor's advice. Talking about diet the foods that raise your energy quotient are apples, whole grains, nuts, lean meats, salmon, fresh leafy green vegetables, fruits, coffee, tea and dark chocolate.
It is necessary that you stay smiling and positive to attract positive energy from the universe. Smiling helps you to look successful. Being positive and happy encourages you to have better relationships and leads to greater well-being.
Making alterations to your personality makeup can re vitalize your life. Things like getting more spiritual, visiting a place of worship often enhances your well-being. A study found people who attended church more than once a week had higher levels of key immune system protein than those who did not attend church. They also tended to live longer.
Re energizing your life also includes being conscientious, having healthy habits, developing a sense of gratitude, purpose and forgiveness. You should also create a work-leisure balance. This can be achieved by building down time in your busy schedule, dropping people or activities which have no value, outsourcing any consuming house hold chores and building relaxation into your daily life. Once in a while it is better to do a spring cleaning of your life and clean all the dirt, debris and clutter in the various closets of life to re energize and attain your maximum potential in all walks of it.
Take care
Photo; happy family holding hands by imagery majestic
Take care,
Swarnam